24 Feb

Instant Pot Vegetable and Beef Stew

Using the Instant Pot to make beef stew cuts the cooking time by half! Another bonus is that the beef is nicely seared in the Instant Pot, making this a hearty one-pot meal. You can add any vegetables you like to the beef stew, but since everything is being cooked at once its best to stick to root vegetables since they can hold their shape. The green peas are added at the end once the stew is done. Adding some crusty bread alongside this dish would be great. My kids enjoy beef stew with a side of egg noodles. This meal is full of flavour and is perfect to have on a chilly winter's day.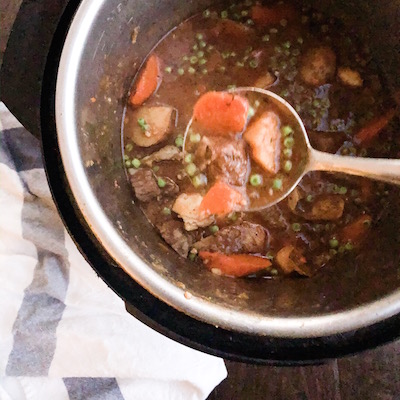 | | |
| --- | --- |
| | |
Trim the beef cubes so they are uniform in size and trim any visible fat. Toss the beef with 1/2 tsp salt and pepper and set aside.

Place the diced onion and minced garlic and grated ginger on a cutting board.

Press the saute function on the Instant Pot. Once the oil has warmed up add in beef cubes and sear until cubes are browned - make sure all sides of the beef are browned. Once the beef has been seared use tongs and transfer the beef cubes to a plate.

Add the diced onion, garlic and ginger to the Instant Pot and season with salt and pepper. Cook and stir until the onions have softened about 3-4 minutes.

Meanwhile, peel 3 medium carrots and cut on a slight diagonal into 1 1/2 " pieces. Quarter 2 medium potatoes to about 1 1/2" chunks. Set them aside.

Stir in the tomato paste and thyme to the Instant Pot. Add in 1/2 cup of broth and Worcestershire sauce and stir to combine, scraping up any brown bits at the bottom of the Instant Pot.

Add the seared beef cubes along with the carrots and potatoes to the Instant Pot.

Place the lid on the Instant Pot and make sure the valve is set to seal, Cook on high pressure for 25 minutes. It can take up to 10 minutes for the Instant Pot to come up to pressure.

When the cook time is done, let the pressure release naturally for 15 min. While you are waiting - whisk 1/2 tablespoon of arrowroot starch and 1 tbsp of water together in a small bowl and set aside.

Quick-release any remaining pressure in the Instant Pot. Remove lid and press the saute function. Stir in 3/4 cup of the frozen peas and the arrowroot mixture and simmer, stirring occasionally, until the sauce has thickened which will take about a few minutes.

Season and serve. Taste and season with salt and pepper as needed. Serve with chopped parsley for garnish.