17 Jul

Indian Chaat Salad

This salad is one of my favourites! It is so incredibly flavourful and the addition of chickpeas makes this salad so filling and hearty. The dressing is oil free and contains tamarind sauce, lemon and spices! This plant-based side dish is perfect if you are having a main meal that contains meat. This dish is great paired with butter chicken or biryani. Hope you enjoy this as much as I do.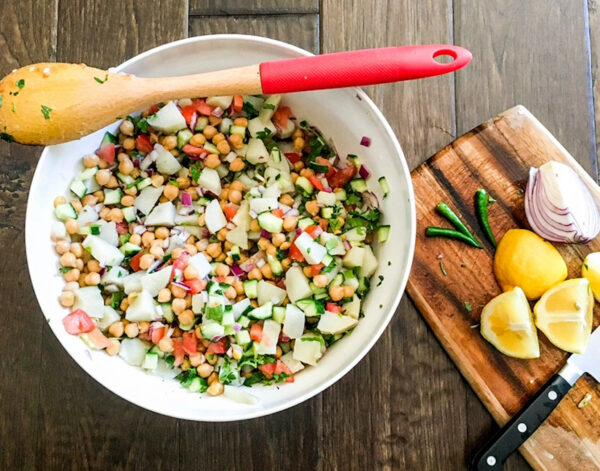 | | |
| --- | --- |
| | |
In a large bowl combine the chickpeas and diced potatoes.

Add in the onions, cucumbers, tomatoes, green chilis and cilantro.

In a small bowl, assemble the dressing by adding the lemon juice tamarind sauce and spices (chaat, amchur, cumin, and salt).

Pour the dressing over the salad. Taste and adjust spices as needed. Garnish with more cilantro.

Cover the bowl and place in the fridge for about 1 hour before serving.

Add in some bhel pour mix before serving for extra crunch, enjoy!