12 Feb

Salmon Cakes with Arugula and Cherry Tomatoes

If you are looking for a simple meal that is delicious and perfect for entertaining than you need to try this recipe! Canned salmon is usually a wild source – making it a budget-friendly way to get in those omega-3 fats. To further boost your nutrition you can opt for canned salmon with bones –  a fantastic way to get in calcium 🙂 For this recipe, I used canned salmon that was skinless and boneless. To accompany the salmon cakes,  I made a simple salad of arugula, cherry tomatoes and fresh parmesan shavings topped with a fresh balsamic vinaigrette.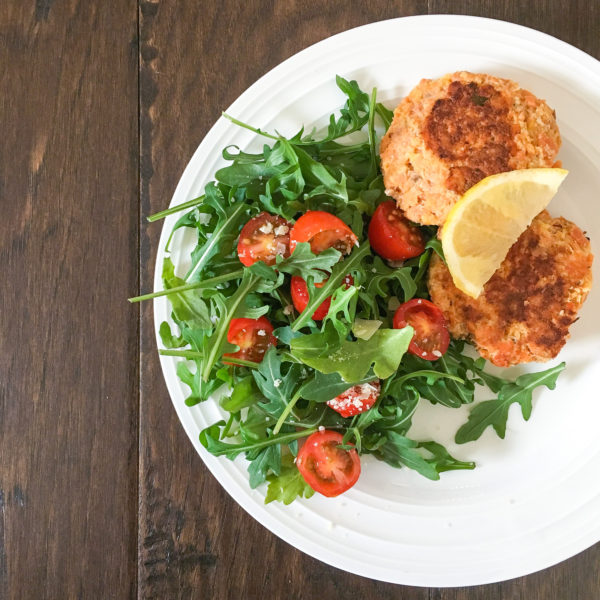 | | |
| --- | --- |
| | |
In a medium bowl add salmon and flake with a fork - add the panko bread crumbs, mayo, lemon juice, lemon zest, mustard, and egg

Shape into patties should yield about 8

Heat a skillet on medium-high heat with a little bit of olive oil add patties and cook on each side for a few minutes until golden brown.
Combine ingredients for dressing and keep in a bottle or bowl. You will not need all the dressing for the salad.
Combine arugala, tomatoes and fresh parm shavings. Add in dressing just until coated and serve alongside salmon patties