02 May

Mung Bean Soup

This soup is so hearty and delicious plus it's filled with so much goodness and it's also vegan and gluten-free.

If you don't regularly add mung beans to your diet here are some reasons why you should:
A great source of protein and fibre – the winning combo for blood sugar balance

They contain resistant starch and acts like a prebiotic and helps nourish your gut bacteria

Mung beans are easier to digest than other legumes – thanks to their easy to digest carbs

Rich in magnesium, potassium, iron, b vitamins,and antioxidants

They are super versatile to add to foods – I love them in salads and soups

Budget-friendly and a great replacement for ground beef.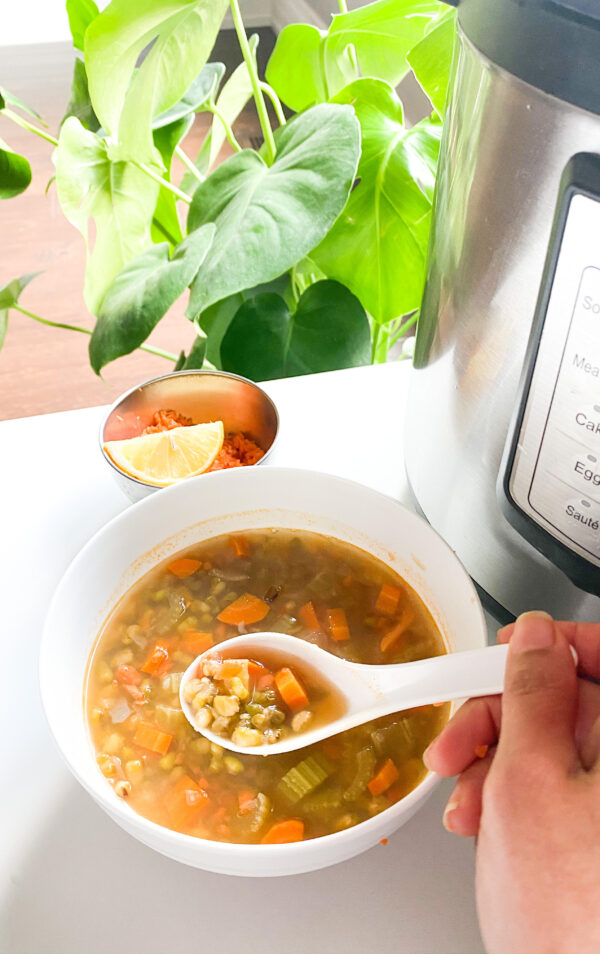 In the Instant pot, press saute and add in olive oil, once the oil is warm add in diced onions and garlic.

Once onions are translucent add in tomatoes, chopped celery, and carrots - let that soften for a few minutes.

Add in salt and pepper and pour in the stock of your choice you can also add water.

Add in 1 cup of rinsed mung beans - give that a good mix.

Place the lid on and turn the knob to sealing. Hit manual for 12 min. Once 12 minutes is up, release the pressure. If mung beans are not soft cook again for 1-2 minutes.

Add in fresh lemon juice and garnish with cilantro, grated carrots and dash of hot sauce if using.

Taste and adjust seasoning if needed and enjoy!
Let me know if you try out this recipe via Instagram @anarallidina