19 Oct

High Fibre Pumpkin Flax Loaf

Fall is here and I've been getting into some fall baking. I wanted to share this deliciously soft and fibre-rich pumpkin loaf recipe with all of you!

I used a mix of whole wheat pastry flour, rolled oats, milled flaxseed and pumpkin puree to give this loaf a fibre boost. Here's the recipe!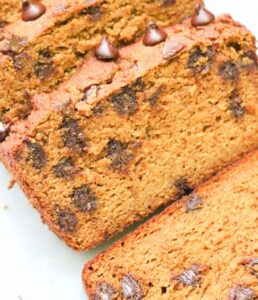 | | |
| --- | --- |
| | |
Preheat the oven to 350 and grease a 9×5-inch loaf pan.

In a medium bowl, mix together dry ingredients: oats, flour, flax, salt, baking soda, pumpkin spice and cinnamon. Set aside.

In a large bowl, beat the oil (butter) and maple syrup together. Add the eggs and whisk until blended.

Add the pumpkin purée, milk, vanilla and mix. Stir in dried ingredients and whisk to blend just until combined with a large wooden spoon.

If you are using chocolate chips and/or pecans, gently fold them in.

Pour the batter into your greased loaf pan and sprinkle with rolled oats.

Bake for 55 to 60 minutes, or until a toothpick inserted into the center comes out clean.

Let cool in the loaf pan for 10 minutes, then carefully transfer the bread to a cooling rack to cool for 20 minutes before slicing. Enjoy!