30 Oct

Egg Curry

This post is sponsored by Egg Farmers of Canada

What's for dinner?! This is a question I get asked every single day. Some days, I do a great job with meal prepping and have most dinners planned for the week and then there are other days when I scramble to put a meal together. Those are the days when I lean on kitchen staples and one food that I always have on hand are eggs! Even though eggs are usually consumed at breakfast, they can truly be eaten at any time of the day, even for dinner! Eggs are a versatile staple. Eggs offer amazing nutrition including protein, iron, vitamins, minerals, and antioxidants such as carotenoids. The best part is that they are super easy to whip up and can be enjoyed in many creative ways!

During the cooler months, I enjoy eggs for dinner in a mild curry served with basmati rice, it's my take on an Indian shakshuka. The recipe is below. Feel free to add in any veggies to this dish – cauliflower florets, chopped peppers and frozen peas all work great.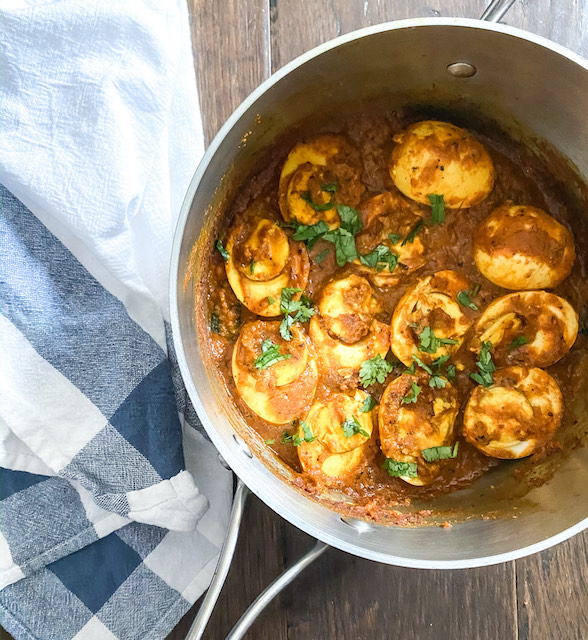 | | |
| --- | --- |
| | |
Boil your eggs, peel them once they cooled and set aside. Feel free to cut in half lengthwise.

Place a medium saucepan on medium heat, add in ghee, mustard seeds and curry leaves.

Once heated, add in chopped onions and saute for 5-7 minutes until onions have caramelized.

Puree tomatoes using a mini food prep food processor. Add tomato mixture to the saucepan. Let cook for 5 min.

Add in 3 cloves of minced garlic and 2 tsp of tomato paste. Mix and let cook for 1-2 minutes on medium heat.

Add in dry spices (turmeric, cumin, coriander, salt, and red chilli powder) Cook for 5 minutes on low to medium heat and adjust water if needed.

Once the curry is nicely combined add in eggs. Cook for a few minutes.

Stir in coconut powder, once incorporated turn stove off.

Garnish with cilantro leaves and enjoy with rice or naan.

Feel free to add in cooked diced potatoes, or frozen peas when you add the eggs.