06 Mar

Blueberry Chia Oat Muffins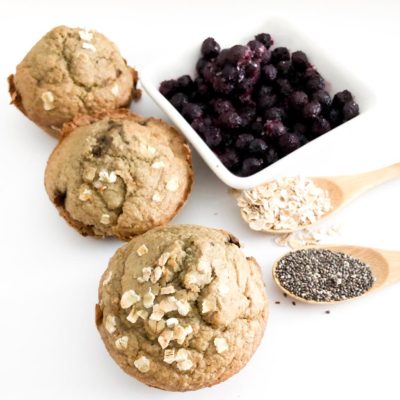 These delicious tender muffins are perfect for breakfast or as a snack during the day. Packed with oats and chia, they are a great source of fibre! With no refined sugars, these muffins give you the perfect amount of sweetness from applesauce, frozen blueberries, and maple syrup. If you are looking for a healthy tasty muffin option this recipe has you covered. They are even kid approved! 
Preheat oven to 375 degrees. Grease a 12 cup muffin tray.

In a small bowl combine the oat flour, chia powder, baking soda, and salt. In another medium-sized bowl add eggs, vanilla, butter, applesauce, and maple syrup. Mix until everything is combined.

Pour the dry ingredients into the wet ingredients and combine. Stir in the frozen or fresh blueberries and add milk to thin out the batter.

Pour 1/4 cup of batter into a greased muffin tray. Sprinkle the muffins with remaining whole oats.

Bake for 20 minutes, once tooth pick comes out clean turn oven off and remove muffins and let cook. Enjoy!