22 Oct

Banana Chia Waffles

Banana Chia waffles! So delicious and a huge hit with the kids. These delicious waffles are filled with oats and other wholesome goodness! Make a big batch of these to freeze for quick and easy breakfast on school days.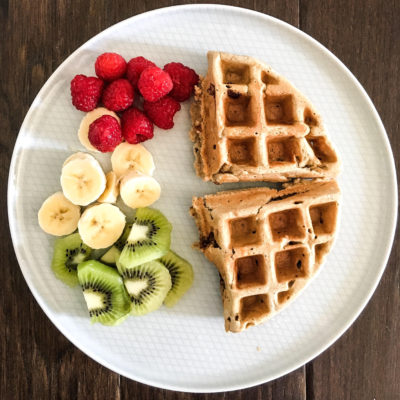 Lightly spoon flours into measuring cups; level with a knife. Combine flours, chia powder, baking powder, cinnamon, and salt in a medium bowl. Mix to combine the dry ingredients.

In another bowl, combine the milk, butter, eggs and syrup, stirring with a whisk. Once the wet ingredients are combined add flour mixture to the milk mixture. Stir until nicely combined.

Fold in mashed banana and add in chocolate chips if you are using.

Preheart the waffle iron. Coat the iron with cooking spray. Spoon 1/4 cup of batter per 4" waffle section in the waffle iron. Cook for 3-4 minutes or until steaming stops; repeat with remaining batter.

Top waffles with fresh fruit or maple syrup!