01 Sep

Back to School Healthy Snacks!

This post is sponsored by Stonyfield Canada

I can't believe a new school year is right around the corner. Whether you are planning to send your kids to school or continue virtual learning – kids will need healthy snacks! The right foods can increase energy, improve mood, and boost concentration for kids and adults alike. The key nutrients to focus on when planning snacks include the combination of carbohydrates and protein to provide sustained energy.
Carbohydrates provide a quick and reliable source of energy. Carbohydrates help fuel your brain and muscles and other organs. The key is to choose complex carbohydrates as they
contain vitamins and fibre to provide long-lasting energy. Foods that are a source of complex
carbohydrates are typically whole foods, examples include:
Whole grains (oats, barley, brown rice, quinoa, whole wheat)
Fruits
Vegetables
Yogurt and Milk
Beans and lentils
Protein – growing bodies need protein to support growth and build muscles. Protein intake should be spread throughout the day so that all meals and snacks include a protein source.
Protein-rich foods include meat, poultry, seafood, and dairy products. Plant-based protein
sources include beans, legumes, nuts, seeds, and soy products.
Here are my favourite nutrient-dense snacks to keep on hand for school lunches: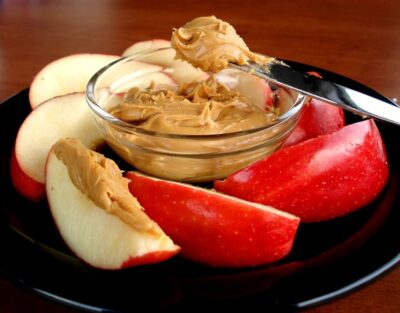 1. Fruit and veggies with nut butter – This winning combo of protein and carbs is delicious and super satisfying. You can pair apples with almond butter or celery with peanut butter. For a nut-free school option, you can swap in sun butter for a wholesome snack.
2. Trail mix – a simple DIY trail mix is a fun way to mix up flavours and texture. Adding in air-popped popcorn with dried cranberries and pumpkin seeds is a great way to get in fibre, protein, and healthy fats. The options are endless of what you can include in a trail mix.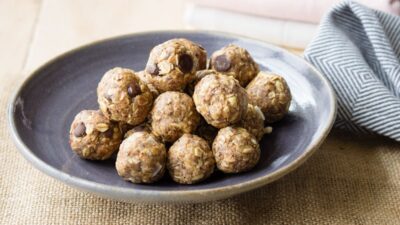 3. Energy balls – these quick and easy no-bake energy bites are loaded with fibre, healthy fat, and protein and most importantly they taste amazing and are a hit with kids. Bonus –they are school-friendly too, click here for the recipe.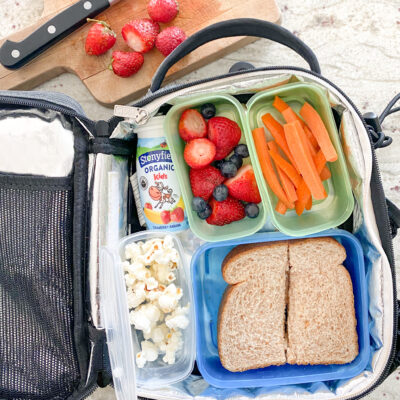 4. Stonyfield drinkable yogurt. These yogurt drinks are made with real organic fruit and are low in sugar with only 4 grams of sugar per serving. I love these drinks because it's a snack that my kids can grab on their own and pack themselves! #momwin
Building a healthy foundation for your kids starts at home. As a parent, you play an important role in shaping your children's eating habits. Here are a few tips to keep in mind.
Stock your kitchen with healthy foods. The foods available in your fridge, freezer,
cupboards and pantry are what your children will get used to eating.
Have regular meals and snack times. If your child eats whenever they feel like it, they
may not be hungry when it's time for a meal. Grazing can lead to overeating and ruin
hunger cues.
Have family meals. Children who eat meals with their family tend to eat healthier foods
like fruits, vegetables, and whole grains.
Be a role model. Kids learn by seeing. Eat healthy yourself. When trying to teach good
eating habits, set the best example possible. Choose nutritious snacks, eat at the table,
and don't skip meals. Here's to a healthy, safe, and happy school year ahead!