07 Apr

Delicious Falafels

These falafels were SO good! I wasn't sure if they would turn out because I used canned chickpeas instead of dried and I was worried they would be too wet and hard to work with, but they were great. I did add some oat flour and baking powder to help get a better consistency. You can use any flour you have on hand, I'm not sure about coconut or almond flour because they may change the flavour. I would suggest using a neutral flour such as whole-wheat, quinoa, all-purpose, spelt or buckwheat. I love oat flour because it's super easy to make and I always have oats at home. Plus oats contain fibre, protein and other great nutrients to add to this wholesome dish. I used the air-fryer to make the falafels and they were crispy and packed with flavour. You probably have all the ingredients on hand! I hope you give these a try and enjoy them. They make for great lunches the next day.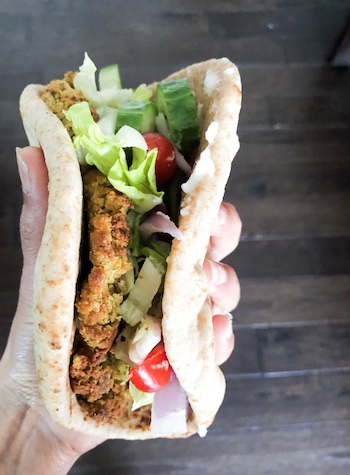 | | |
| --- | --- |
| | |
In a food processor, fit the steel blade and add in rinsed chickpeas, onions, garlic cloves, parsley, cilantro, parsley, cumin, paprika, salt, and lemon juice.

Place lid on the food processor and pulse a few times until mixture is combined well. Open the lid and scrape the sides of the bowl and pulse again a few times.

Open the lid and add in baking powder and oat flour. You can swap in a mild flour of your choice.

Put the lid back on and pulse a few times until everything is well incorporated.

The mixture should have some form, transfer the mix from the food processor to a mixing bowl. Cover and place in the fridge either overnight or for a few hours.

Once you are ready to make the falafels, make small patties. You can place in the air fryer, pan fry on the stovetop or bake in the oven. If you are using the air fryer or oven brush the falafels with olive oil.

Bake in the oven at 375 for 20-25 minutes. At the halfway mark flip and brush olive oil on the other side. If you are using an air fryer bake for 20-25 and at the halfway mark flip and brush olive oil on the other side. More time may be needed. Bake until they are golden brown.

While falafels are baking, make the tahini sauce or use ready-made. Warm up the pitas and keep garnishes ready such as chopped romaine, onions, cucumbers and tomatoes. Add hot sauce if you like and tahini, enjoy!
In a small bowl, add the tahini and whisk in the lemon juice, garlic, and seasoning. Keep mixing and add in the water. More water may be needed to achieve the desired consistency. Taste and adjust seasoning as needed. Store in an airtight container for about a week.