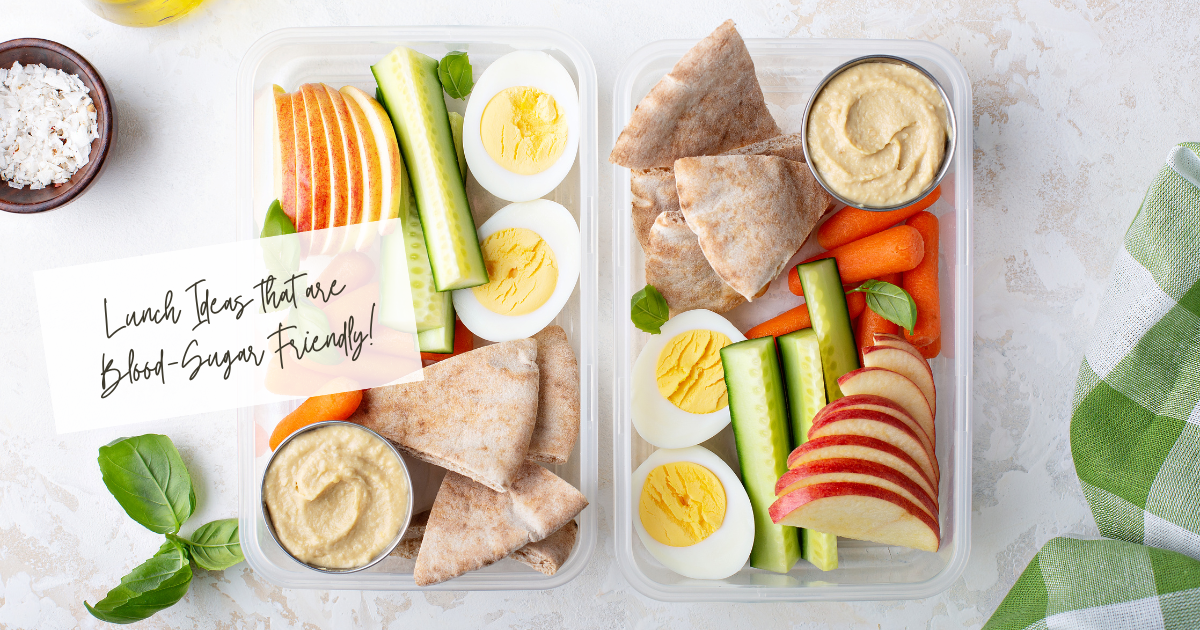 02 Sep

3 Lunch Ideas that are Blood-Sugar Friendly!

It is officially the start of the school year and with Fall comes the importance of prioritizing a balanced, midday meal with these healthy lunch ideas.

When back-to-school season rolls around, I know many Mom's start to get busy and overwhelmed. This often leads to making lunch for the kids and completely skipping lunch for yourself!

Or maybe you are a hard-working Mom who is always on the go and find yourself eating out every day for lunch.

Does this sound like something you've done before?

Don't worry- we've all been there. But having a well-balanced lunch can help give you the energy you need to power through your day.

It is also important for keeping your blood sugar stable throughout the day and preventing crashes later on!

In today's article, as a registered dietitian and mom, I will be going over 3 school lunch ideas that are blood-sugar friendly that both you and your kids can enjoy. Let's get started!
The Importance of Eating Lunch
It is super easy to forget to eat lunch after a busy morning of running the kids around and getting everyone ready for the day. 
But when your blood sugar starts to dip from the lack of food, your energy starts to decrease as well and you may become more irritable! Aka what I like to call hangry. 
This makes dealing with the kids so much harder when 
they finally return home from school for the day and you are completely exhausted.
So, to prevent this, I highly recommend having a few quick and easy lunch ideas on hand that both you and your kids can eat. 
Having a midday meal has so many benefits for your health. A few of these benefits are:
Increased energy throughout the day

Improvement in focus during tasks 

Decrease in cravings and overeating later on, especially in the evening
Keep reading to learn the components of a blood-sugar friendly lunch!
Components of a Blood-Sugar Friendly Lunch
A blood-sugar friendly lunch has a few key components to make it a well-balanced meal. I encourage my nutrition coaching clients to follow a similar formula to this below. 
Choose a high quality protein source
Ex. lean meat, wild caught fish, beans & legumes 
Add a carbohydrate source, preferably whole wheat or grains
Ex. whole wheat, quinoa, wild rice
Fill your plate with fresh produce
Ex. leafy greens, roasted & raw vegetables, fruit, what is in season
Choose a source of healthy fats
Ex. avocado, olive oil, nuts & seeds
Using this basic formula, you can make any of your meals balanced and blood-sugar friendly! Keep reading for some of my favorite easy and quick back-to-school meal ideas.
Imagine knowing how to balance your blood sugars no matter how busy life gets. Learn more about my nutrition coaching services at this link!
Lunch Ideas That Are Blood-Sugar Friendly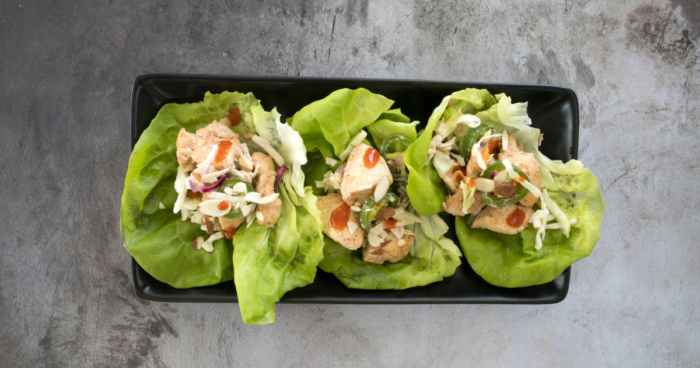 1. Turkey Lettuce Wraps
Turkey wraps are a great lunch option because they can be meal prepped ahead of time! Try using lettuce or whole-grain wraps instead of traditional flour tortillas for an extra boost of fiber and nutrients. 
Turkey is a great, high-quality protein option. To make a basic turkey wrap, below these directions:
Start with ground turkey of your choice, or you can also use ground chicken. I recommend sauteing 1-2 pounds of turkey ahead of time and having it as a protein source for the week!

Add your turkey to your lettuce or whole grain wrap

Top with toppings of your choice! Ideas include:

Chopped peppers, onions and tomatoes

Goat cheese

Avocado 

An extra grain like wild rice or quinoa
2. DIY Snack "Bento" Boxes 
Snack boxes make the perfect lunch because they are quick and customizable. Add your ingredients/snacks into containers with multi compartments. I like these glass ones you can get on Amazon!
While you can add whatever you'd like to your snack box, I recommend choosing at least one ingredient/meal from each category below. 
Protein

Ex: Hard boiled eggs, tuna sandwich, PB&J, turkey jerky, mixed nuts, hummus, cottage cheese

Whole grains/fiber

Whole wheat wraps, whole grain triscuits/crackers, rice cakes/rollers, whole grain bread 

Produce

Ex: Grapes, peaches, apples & cinnamon, celery & PB, carrot sticks & hummus, side salad w/ greens

Healthy fats

Avocado, greek yogurt, goat cheese, mixed nuts, nut butter packs 
These are just a few examples of what you can add to your snack box! I also encourage you to use leftover ingredients from whatever else you have in the house. No need to complicate it! 
Click here to where I show you how to make a plant based lunch!
3. Nutrient-Packed Berry Smoothie
Smoothies are great for lunches because you can pack tons of nutrients into them! They are also a great on-the-go option.
I recommend adding ingredients that are high in fiber. Fiber is essential for balancing blood sugar and improving your gut health. 
For the base of the smoothie, use this formula below: 
Start with ½-1 cup of frozen fruit of your choice.

I love berries because they are high in antioxidants that are great for your health 

Mango and banana are other good options

Add 1 cup of greens.

Don't worry- you won't even taste them!

Protein & fat source

High-quality protein powder, nuts & seeds, nut butter, greek yogurt
Then you can feel free to add in any extra ingredients that you'd like.
Here is a peach smoothie recipe on my website that is a huge hit in my house!
The Takeaway
Pack one of these easy lunch ideas for your kids and make an extra for yourself! Then you can eat it whenever you have a free moment in the afternoon and it won't take extra effort or thought.
Remember that having a well-balanced lunch during the week has a lot of great benefits for your overall health and wellness. 
If you want to be the best parent that you can be for your kids this school season, you have to take care of yourself too! You can't pour from an empty cup. 
Book a free discovery call with me at this link to learn more about my nutrition coaching services and how I can help you take the next step in your journey!