14 Dec

Chicken Vegetable Zoodle Soup

Nothing beats a delicious bowl of steamy soup on a chilly winter's day especially if you are feeling under the weather. There are some nourishing properties in chicken soup that can really help ease cold and flu symptoms, they include:
Ginger and garlic are both powerful anti-inflammatories and immune-supportive spices. The active ingredient allicin in freshly crushed garlic works as a natural antibiotic.
Hot soup helps to thin out mucus. When we're healthy our nasal mucus is clear and thin. During times of infection, mucus can thicken and encourages the growth of viruses and bacteria. A bowl of chicken soup can thin that mucus and help the body fight infection.
Homemade chicken soup is hydrating and provides electrolytes that your body needs.  When we run a fever, we can get dehydrated, which decreases our electrolytes.
Tastes great! Soup is so nourishing and comforting and the perfect food to have when we are sick and need to get more fluids in.
This soup is filled with chicken, vegetables and zucchini noodles, also known as zoodles. Using zoodles is a great way to get in vegetables, boost fibre and its a perfect option for anyone who is gluten sensitive, or follows a low carb or grain free diet. The broth in this soup is super flavourful. I used a  vegetable organic base which has less sodium than a bouillon cube. If you don't have this base you can swap in no sodium vegetable broth. Of course, you can always make your own homemade broth or stock, but it's nice to have options if you are pressed for time. I love adding a bit of acidity when the soup is done for a boost of flavour. You can use fresh lemon juice or vinegar – I used 1 tbsp of apple cider vinegar, feel free to use whatever vinegar you have on hand!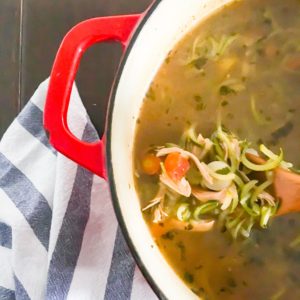 | | |
| --- | --- |
| | |
Add 2 cups of water to the instant pot. Place the trivet inside the liner.

Add the chicken breast onto the trivet. Season with garlic, ginger, salt and pepper.

Place the lid on the instant pot, with the vent sealed. Press manual mode and adjust time to 7 minutes. Release pressure manually once it is done.

Let the chicken cool, shred and set aside.

To make this on the stovetop add the chicken to a saucepan with 2 cups of water. Season as above and cook on medium high heat until chicken is no longer pink about 10-12 minutes.
Place a large saucepan on the stove on medium heat, coat pot with 1/2 tbsp of avocado oil.

Add chopped onions and garlic, once onions are translucent (about 7-10 minutes) add in celery and carrots.

Add in dried thyme, parsley, salt, and pepper. Mix until veggies have softened slightly.

Add in vegetable base and water or stock. Mix and let soup come to a boil.

Add in shredded chicken and spiralized zoodles. Add in the water the chicken was cooked in. Let soup simmer for about 7-10 minutes.

Turn stove off and add in vinegar, taste to adjust spices. Serve with a splash of hot sauce (optional) and chopped cilantro. Enjoy!