01 Feb

Cauliflower Buffalo Bites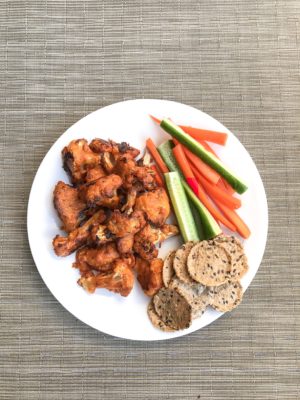 I'm a huge fan of chicken wings, they are so delicious but they are not the healthiest choice since they are high in saturated fat, sodium, and calories. To satisfy your chicken wing craving you need to try these cauliflower bites! They are a great appetizer and perfect if you are hosting the Super Bowl or want to bring a healthy snack to watch the game with friends. The flavours are awesome with a real kick and while they do resemble the flavours of chicken wings, I won't say they are a great replacement for wings but definitely a healthy alternative. It's also a fun twist to a vegetable platter which you can serve with some other snack foods. These bites are super easy to make and you can adjust the amount of hot sauce if you want them milder. 
Preheat oven to 450 degrees. Take a large baking sheet and line with parchment paper. Rinse and cut the cauliflower into medium florets.

In a large bowl add the water, flour, spices, and oil, whisk until it is well combined.

Add in the cauliflower florets and make sure they are well coated.

Spead on the baking sheet and bake for 15 mintues. After 8 minutes flip the florets over so they are cooked evenly.

In the meantime, while the cauliflower is in the oven prepare the hot sauce/butter mixture. Melt the butter in a small saucepan over low heat. Once the butter has melted pour in the hot sauce and mix to combine. Once the cauliflower is done, pour or brush the florets with the butter/hot sauce mix until they are all coated.

Return the coated cauliflower bites back into the oven and bake for another 20 minutes until golden brown. Serve warm.