05 Feb

Vegetarian Chili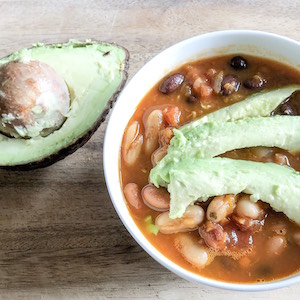 This plant-based chili is packed with flavours and textures. I used 3 different kinds of beans (pinto, black and white kidney) – each has a different shape and colour and adds so much creaminess to the dish. This recipe is very easy to make since many of the ingredients are pantry staples. A quick chop of some veggies, spices and the addition of stewed tomatoes and canned beans and you have got yourself a huge pot of chili full of fiber and protein. Canned beans are such a convenient budget-friendly item to keep on hand. If possible, choose low sodium beans and make sure to give them a good rinse before using. As for canned tomatoes, they are a rich source of lycopene. Lycopene is well-known as a powerful antioxidant that decreases your risk of cancer and heart disease. Research shows that lycopene in processed canned tomatoes can be absorbed more efficiently by the body. The chemical form of lycopene found in tomatoes is converted by the temperature changes involved in processing to make it more easily absorbed by the body. If you are concerned with BPA exposure from canned foods choose canned tomatoes that are BPA free or stewed tomatoes that are in glass jars. Optional additions for the chili include avocado slices, a sprinkle of cheese, jalapenos, and cilantro.  
Place a large pot on medium heat, add in the olive oil. Once the oil is warm add in onions and stir until translucent.

Add in diced carrots, celery, red pepper and garlic. Cook for a few minutes until veggies are soft.

Add in salt, black pepper, oregano, cumin and red chili powder and mix.

Add in vegetable stock, or if you are using the Better Than Bouillon stock, stir in 2 tsp in 2 cups of warm water and mix. Add the stock to the chili and stir.

Add in stewed tomatoes and their juices. Add in rinshed canned beans.

Mix everything and let it reach a boil. Once it has reached a boil turn heat on medium low. Stir in tomato paste, worchestire sauce, and tobasco.

Let simmer for 15 min on low heat. Add in splash of vinegar and turn stove off. Garnish with cilantro and enjoy!