16 Apr

Homemade Pita Chips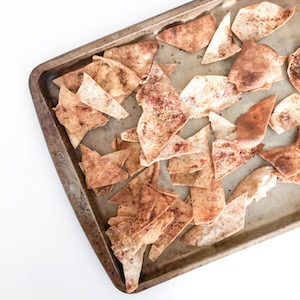 These delicious pita chips are bursting with flavor and crispiness. Plus they are really simple to make and are a family favourite! Using whole wheat pita gives you a good dose of fibre and protein, which makes for a satisfying snack. Enjoy on its own or feel free to dip them in hummus or guacamole for some extra deliciousness. 
Prepare for baking: Preheat oven to 300°F.

If your pitas have pockets, place them flat on your work surface and split them in half with a sharp knife or kitchen shears, to make 2 single-layer rounds.

With a sharp knife or kitchen shears, cut each pita into small triangles or bite-sized pieces. Don't worry if they are not perfect triangles.

Arrange the pita chips on a large baking sheet, do not overcrowd the pan, you may need to make two batches or use another baking sheet. Drizzle oil over the pita chips.

Sprinkle the sumac and garlic and onion seasoning over the pita chips. Use your hands to toss the chips so they are evenly coated with the oil and seasoning.

Place in the oven and let bake for 15 min, once they are golden brown remove from the oven.

Let cool and enjoy them on their own or with guacamole or hummus!