13 Dec

Ginger Molasses Cookies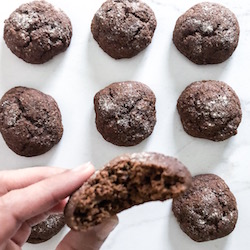 Holiday gift ideas – homemade treats! A delicious way to show appreciation to coworkers, teachers, neighbours, friends, and family this season.
These ginger molasses cookies are soft, chewy and delicious. I used whole wheat pastry flour which has all the goodness of whole grains but is more finely ground than whole wheat flour and has a lower gluten content so cookies and brownies are light and fluffy. You can also swap in gluten-free flour – but the cookies won't crackle as much when they bake. I have made these cookies with 1 cup oat flour and 1 cup whole wheat pastry flour and they turned out great.
I also used LIVA date sugar, which is a nutritional upgrade vs other sweeteners since it provides a dose of fibre and is all-natural. In place of powdered sugar to sprinkle the cookies, I used a sprinkle of date sugar for a sweet festive touch!
In a medium mixing bowl mix together the flour, baking soda, salt, and spices. Set aside.

In another mixing bowl add in egg and whisk, then add-in coconut oil. Stir in the date sugar, molasses, and vanilla. Mix until its combined.

Add the dry ingredients to the wet ingredients. stir in the milk and mix. If the dough is too thick add in a few more tablespoons of milk.

The dough will be sticky, roll the dough and place in plastic wrap in the fridge for at least an hour. This will allow the dough to set so it will be easier to work with.

Once you are ready to make the cookies, preheat oven to 350F and line a baking sheet.

Roll the chilled dough into a small ball - the size of a golf ball and place on the lined baking sheet. Keep enough space in between cookies as they will spread when baking.

Bake for 10 min and once done let them cook for about 5 minutes.

Once cookies are completely cooled, sprinkle with additional LIVA date sugar on top for a festive touch!